TERMS OF USE
MEDICAL FACILITIES
Western - style medical facilities with international staff are available in Beijing , Shanghai , Guangzhou and a few other large cities. Many other hospitals in major Chinese cities have so-called VIP wards (gaogan bingfang). These feature reasonably up-to-date medical technology and physicians who are both knowledgeable and skilled. Most VIP wards also provide medical services to foreigners and have English-speaking doctors and nurses. Most hospitals in China will not accept foreign medical insurance.
Health services in smaller towns and rural areas are limited and it would be very difficult to find anyone with English language ability.
Travelers will be asked to pay a deposit prior to admission to cover the expected cost of treatment. Hospitals in major cities may accept credit cards for payment. Even in the VIP/Foreigner wards of major hospitals however, foreign patients may encounter difficulty due to cultural differences. Physicians and hospitals have sometimes refused to supply patients with complete copies of their Chinese hospital medical records, including laboratory test results, scans, and x-rays. All tourists traveling to China are strongly encouraged to buy foreign medical care and medical evacuation insurance prior to arrival.
Vaccination Requirements
Please check the vaccination requirements for your country. Generally speaking, there are few disease issues when traveling in the cities in China .
Safety Issues
It is not recommended to drink water directly from the tap anywhere in China . Bottled water is available for sale at many locations and is inexpensive.
The incidents of crime against tourists in China are low and when it does occur it is almost inevitably petty crime such as bag snatching and pick-pocketing. Following these precautions will help in preventing such problems.
Pickpockets tend to operate in crowded areas e.g. buses and shopping areas, so do not carry bags where you cannot protect them.
Ensure that you protect your passport, tickets, visa documents etc by carrying them on your person, preferably underneath clothing in a pouch or money belt.
Never leave valuables lying around your hotel room or in your car. Backpackers or those staying in hostels should secure your possession in lockers.
At all times try to stick to busy, well-lit places.
Take notice of advice from our local guides.
Beggars are common in some areas of China but be wary as many are professional beggars. Carry some small change if you wish to help them or consider buying them some food. This will help the real beggars.
There is a black market for currency exchange where the exchange may be better than the bank or hotel rate. This black market is illegal and can be a distribution network for counterfeit currency.

Got questions? Ask us here!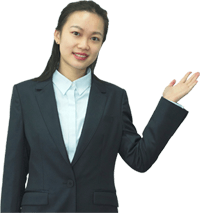 Sally Guo
Travel Advisor