Bamboo Boat Rafting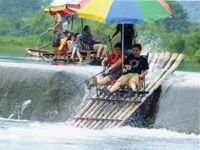 Yulong River (Dragon Meeting River), famed as little Li River, is the biggest branch of Li River in Yangshuo county. Apart from the incredible landscape that rivals Li River, Yulong River owes its special of a more peaceful and vivid scenery with ancient villages and bridges along with daily life scenes of local people.
There are many ways to experience Yulong River such as hiking along the riverbank from Yulong Bridge to Moon Hill, cycle a bike alongside, swimming, kayaking and bamboo rafting. Among the activities, bamboo rafting should be the most popular way to experience Yulong River at its best.
The most essential section of Bamboo rafting on Yulong River begins from Yulong Bridge, a 400-year-old stone bridge and the whole journey takes about 2 hours forth and back. People regarded this part of scenery as "The Paradise in the World". Sitting on the reclining bamboo chair, Yulong River reveals itself as a panoramic scroll of the natural and rural life down the river with shaped limestone peaks, bamboo forests, rice paddy fields, ancient villages and bridges, water buffalos and laundering local famers.
Getting There
1. Rent a bicycle at Yangshuo West Street, ride 30-40 minutes along Yulong river bank to Aishan Village, there is a lot of rafting starting point along the way.
2. Take a bus from Yangshuo to Guilin and get off at Baisha town and then take a tricycle to Yulong Bridge.
3. Ride a Bike to Gongnong Bridge, it takes 30 minutes away from Yangshuo, you can find out a bamboo rafting tickets office under the bridge. Your bike allow to put in the front boat.
Price
1. Upstream rafting (Golden Dragon Bridge to jiuxian county): RMB180 per raft for 2 persons.
2. Downstream rafting (Chaoyang Pier to Gongnong Bridge): RMB180 per raft for 2 persons.
)3. Yulong Bridge (forth and back): RMB180 per raft for 2 persons.
4. Whole journey rafting (Golden Dragon Bridge to Gongnong Bridge): RMB280 per raft for 2 persons.
The Best Time to Visit
April, May, June, Sept, Oct and Nov.
Got questions? Ask us here!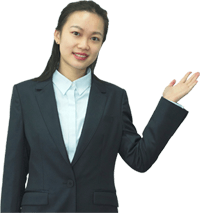 Sally Guo
Travel Advisor