Yangshuo Travel
Yangshuo is the terminal of the 65 kilometer-long Li River cruise tour and is a beautiful and sedate ancient city. The city has a history of more than 1,000 years.Some 1,600 years ago in the Jin Dynasty (265-420) the county seat was moved to Yangshuo from Xingping. Read More Information About Yangshuo facts>>
Facts:
Chinese Name: 阳朔
Location: South of China
Ancient Villages Around Yangshuo: Fuli, Xingping, Puyi, Liugong
Local Specialty: Yanghsuo is famous for its rich produce which includes sweet oranges, tangerine, pomelo, persimmon, chestnut and kumquat.
Best Way for Visit: Rent a bike cycling round Yangshuo to Yima or Yangshuo-Aishan, bamboo boat rafting in Yulong River, Li river Kayaking, stay in a guesthouse in the countryside, and etc.
How to get to Yangshuo: By bus from Guilin or by cruising on the Li River. Express buses to Yangshuo are available right at the bus terminal off Zhongshan Road. Starting at 7:00am, the busses depart close to every 20 minutes and cost an affordable 20 Yuan.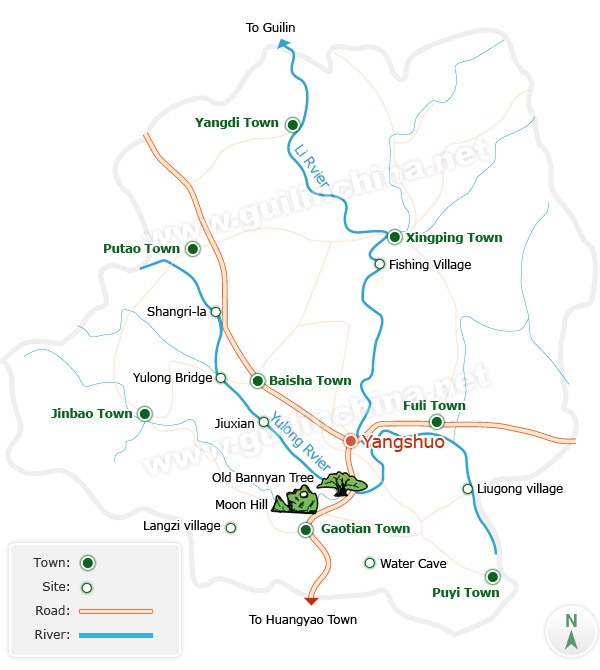 Recommended Tours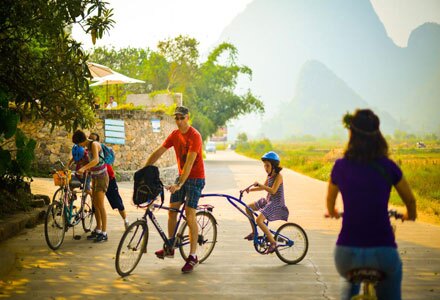 This tour offers not only Guilin city highlights and Li River Cruise, but also includes staying one night in Yangshuo to soak up its beauty in a slower pace. Cycling along the countryside road and a local family visit are also provided, which is a cool way to explore Yangshuo more.
Duration: 4 Days
Operates: Daily
Language: English |Spanish |German |Italian |French |Russian |Janpanese
$519 View details
Common Questions Travelers Asked Us
What is the best time to travel to Yangshuo?
Yangshuo located at southern part of Guilin which is quiet comfortable for visit at all year round, especially from May to October, without too much rain, and suitable for unwind yourself on outdoor activities as bamboo raft, swimming, cycling and etc. summer time is hot and humid, prepare in advance with sun cream, sun glasses, insect repellent for protection.
| Month | Weather | Crowds | Price | Holiday |
| --- | --- | --- | --- | --- |
| Jan | 5~12℃ (41~53.6℉)cold | * | $ | Chinese New Year |
| Feb | 7~13℃ (44.6~55.4℉)cold | * | $ | Chinese New Year |
| Mar | 11~17℃ (51.8~62.6℉)warming up | ** | $$ | |
| Apr | 16~23℃ (60.8~73.4℉)warm | ** | $$$ | |
| May | 20~27℃ (68~80.6℉)warmer | *** | $$$$ | Labors day |
| Jun | 23~30℃ (73.4~86℉)hot | **** | $$$ | |
| Jul | 25~33℃ (77~91.4℉)very hot | **** | $$$$ | Summer Holiday |
| Aug | 24~33℃ (75~91.4℉)very hot | ***** | $$$$$ | |
| Sep | 22~31℃ (71.6~81.8℉)hot | ***** | $$$$$ | Mid-autumn festival |
| Oct | 7~13℃ (44.6~55.4℉)Cool | **** | $$$$$ | Chinese National Holiday |
| Nov | 12~20℃ (53.6~68℉)Cooler | ** | $$ | |
| Dec | 7~15℃ (44.6~59℉)Cold | * | $ | |
How to get to Guilin Liangjiang International airport from Yangshuo?
There are buses goes between Guilin Liangjiang Airport to Yangshuo Bus Station which departs at every two hours at 9am, 11am, 13pm, 15pm, 17pm, 19pm, 21am, the bus tickets is CNY50, you can find out airport buses parking outside domestic arrival hall. It totally takes 2 hours.
How to get to Guilin North Railway Station from Yangshuo?
Take a Taxi or bus No 99,100 to Guilin bus station, and take shuttle bus to Yangshuo, it departs at every half an hour from 7am to 19pm and takes 1hr20min, the bus ticket is CNY22.
Li River cruise vs Yulong bamboo rafting, which one is better?
The Li river cruise takes 4 hours on tourist boat which provides open air deck for sightseeing, indoor seats and buffet lunch, this will be strong recommended for first time visitors, if you want to extend your trip in Yangshuo, the Yulong Bamboo Raft consider as the best choice, it is the tributary of Li River, visitors may expected to see great combination of the Karsts formation mountains, and peaceful idyllic scenery by punting trip, there are different starting pier alongside Yulong River, price and time depend on the starting and ending point.
Is the kids under 3 years old can take bamboo raft in Yulong River? Is it open air?
The punting boat is 1.2 meters wide with open air for panoramic viewing of landscapes, for security consideration, the kids less than 1.2 meters are not allow taking the boat.
Liusanjie show- what is the best time to see the lightshow in Yangshuo and what is the cost?
The show is based on the life of the famous folk heroine Liu Sanjie. it is set on a 2klm stretch of the Li River and uses the incredible natural scenery as backdrops, the show setting in open air threather, it only close during Chinese Spring Festival for a month and floody day in rainy season during the year. In the peak tourist season, the same show encore 2-3 times at night, we suggest booking the first show if possible, if you go to the second or the third one, you might expect to terrible traffic to get there as you have a combination of people leaving the previous show and those arriving for the second one.
The stepped seat is assign by Ordinary Seat CNY198 (line 1-14), VIP Seat B1 CNY320 (line 31-32), B2 CNY238 (line 15-30), and President Seat A1 CNY680 (top in the middle), A2 CNY480 (top on face to left side).