Yangshuo Yulong River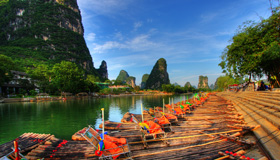 Major tributary of Li River, Yulong River flows through some of the most beautiful Karst (limestone) scenery near Yangshuo. Local people use rafts as daily transportation up and down the river between house, markets, and rice paddies. Some villagers made bigger rafts and started to woo the travelers and soon it became a highlight of tour around Yangshuo. Sitting on the reclining chair on the raft, you can enjoy an all around view of the natural, rural life down the river.
Swimming is also a popular activity on this river. There are several swimming holes on the river. Swimming here is safer than on the Li River as there is a smaller current and it is not as deep.
Several bike rides and hikes also follow the Yulong river taking in local villages and rice paddies. These can be some of the most memorable days on your China experience.
How to get there
Cycling: if you take bicycle, you can go across the path nearby the Yangshuo Resort or riding start at Jima Village. You should ride upstream to the Yulong River and stop in Yulong Bridge. The cost of rent bikes is US$3-US$5 and it may cost you 1 hour (the bike can take in the boat so don't worry).
By bus: there are shuttle bus in Yangshuo and easy to take (start in every 15mins). To tell driver you stop at Yulong River and the yard is nearby. The cost is US$8. Or you can arrive to Yangshuo Bus Station and take the coach to Guilin and get off in Baisha Village (cost US$2) and take tricycle to Yulong River (cost US$2).
By motorcycle: you can see them in every street. Take motorcycle to Yulong Bridge cost US$15 per person.
Taxi: from
West Street
to Yulong Bridge. The cost is US$25.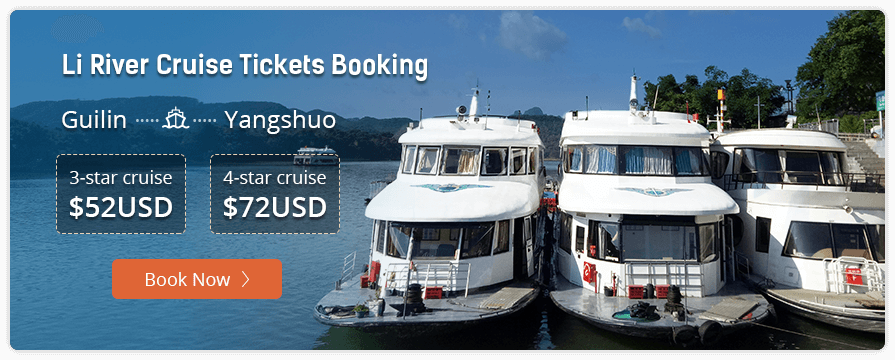 Nearby Attractions
Around Yulong River there are many fancy spots such as Aishan Men and Swallow Lake. Aishan Men is a small village which has many inns here. The village is very peaceful and far away from modern society. Swallow Lake is a man-made lake which built like Outer Heaven that Tao Yuanming wrote about it. Both two spots can be visited when you have a rafting.
Yulong River Rafting Trip
It is not like petrol engine boats on Li River, bamboo rafts in Yulong River are worked by boatmen. For that reason, the bamboo boat can only carry 2 people.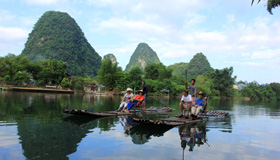 On the river there are 28 dams which people made to cross the river. They are become a part of the river and make the river more interesting.
In the dams there are several points for you to take photos by local photographers. You can choose the photo you want (about US$3 per piece). The boatmen are friendly and very kind. You can offer them to stop for you to take some photos by yourself. The Rafting Trip separate into two parts. First part starts from Jinlong Bridge and ends to Ancient Village. In this part you can feel the charming sceneries of rurality. The water flows through bridges gently and the hills draw on the river. All of the scenes make this part more poetic.
Second part of drafting starts from Chaoyang Yard and ends in Gongnong Bridge. From this part you will understand why Yulong River called "petite Li River". Both sides of the river are endless green hills, just like Li River but more peaceful.
There is another part of rafting trip is add in first part. You can upstream from Yulong Bridge and reach the Fuli Bridge. Everything you can see made this part worth every second. The water is so cleaning that you can see the water planets and fish in the bottom of the river. When go through the Xiangui Bridge you will see the poems written by ancient words. It makes the trip more ancient rhymes.
Yu Long Bridge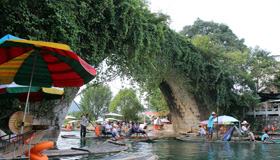 This 400 year old bridge is located in a beautiful setting. It is also the location for bamboo raft rides.
You can get here easily by bike taking in towns like Ima which is on the banks on the Yulong river.
We definitely recommend a visit to this this bridge and to incorporate it into a bike ride. There is a very good village road leading from Yangshuo. Along the way you pass through small villages and past rice paddies and you will follow the banks of the Yu Long river. Very special indeed!
FAQs
Q: how much about the rafting trip?
A: the first part needs US$27.7-US$30.8, the second part needs US$23-US$30. If you want to add upstream trip you may pay another US$3 or US$5 to boatman.
Q: if I have a child, can I take him/her to bamboo raft?
A: yes of course, but you should pay US$3 for boatman because the drive the raft by human.
Q: when is the best time to visit Yulong River?
A:the best time arrive Yulong River is April to September and better to get up early to take the raft because there are less people in morning so you can feel the silence of the river.
Recommended Guilin Tours Including a Visit of Yulong River
Got questions? Ask us here!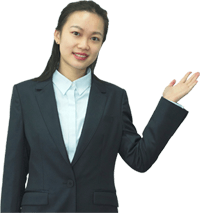 Sally Guo
Travel Advisor