Yangshuo West Street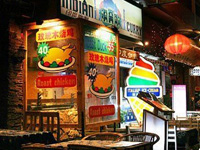 Yangshuo is a county of Guilin, about 65 km from Guilin. It is very famous for the West Street in the town. Hundreds of shops with many amazing variety of local crafts, antiques and souvenirs make this a shoppers' paradise. Or you can just wander through the many alleyways or along the river, people-watching. Many visitors prefer to stay the night in Yangshuo to enjoy it in a more leisurely way or take in some of the active nightlife.
West Street (Xi Jie), situated in the heart of Yangshuo, is alive with cafes offering interesting Chinese and Western food. Ttravellers' can eat food from many differnt countries at very reasonable prices.Those who have been wandering around China for a while will probably want to take the chance to break from oily stir-fried vegetalbels and grab a cup of good coffee or have mueslie for breakfast. West Street in the town center attracts a large number of younger international travelers. West Street is filled with small shops and vendor's stands selling all kinds of souvenirs and snacks. Chinese teenagers mingle with young Western bicyclists and backpackers in Internet cafes, such as Mickey Mao's, Hard Rock Cafe or at Lisa's Cafe eating apple pie, beefsteak French fries, and ice-cream sundaes. These comfort foods from abroad are difficult to find in China. International tourists feel at home here because everyone speaks fluent English and restaurants and bars provide menus in several languages. Why not kick back here for a few days? Take the chance to recharge your batteries and connect with you freinds and relatives around the world in one of the internet cafes. The accommadation is very reasonable.
Built in 590 during the Sui Dynasty with the Li River passing by the end, the street has experienced much wind and rain, but is well preserved, revealing the resplendence of past days. Since being opened to outside in 1978, the unique "Foreigners Street" - West Street has seen countless foreigners from all over the workd and it was reputed to be "Earth Village in China". Today, the 2000-m-long street has over 300 cafes, restaurants, hotels art crafts and tourist stores, foreign language clubs, internet centers and Kufu schools. It's an ideal place to eat, shop, entertain, study or just take a break..
Places to go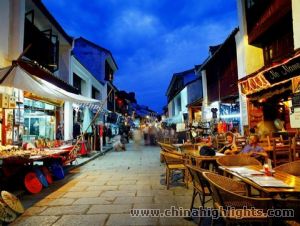 Started in 1991, Minnie Mao's is one of the oldest cafes in town. Popular with the local people, Minnie's cafe, with its hospitality and first-class food, has made a name for itself far and near. Famed for its Minnie soup, Minnie tea, and sweet and sour chicken, the place is often packed. If you are in Yangshuo, you should not miss this excellent food.
Lisa's cafe is also popular. Opposite Lisa's cafe is Mei You(We don't have) Cafe, which promises that ""mei you bad service, mei you warm beer"". Just as it promises, the service here is good and the beer here is really cold.
Other popular places such as Green Lotus, Paris Cafe and MC Blues Bar, which is on the corner of West Street and the main road,are worth a try. With outdoor seating, they are good places to sit and watch the world go by. MC Blues also provides visitors with more than 150 tapes, and the visitors can choose what music they like.
On Line internet Cafe, offers drinks and communications services and is the best in town. In manager Billy's own words: ""No good no pay!"" Its services includes type, send, copy, print, scan, IDD calls and cheap fax, and they can solve your computer problems.
Anne's' Art Cafe
With first-class quality and affordable prices providing delicate food, which is not only an enjoyment to your stomach but also to the eye.
Add: 48 West Street, Yangshuo town
Tel: 0086 773 8820252
Fax: 0086 773 8822060
E-mail: Leexiu@hotmail.com
Susannah's
Add: 73 West Street, Yangshuo town
Located under the green lotus peak and near the Li River, Sihai Hotel, as the most popular hotel in Yangshuo, is well known both at home and abroad .It has bright and clean rooms, friendly staff, and easonable prices. Ho tshowers are available 24 hoursa day.
Tel: 86-(0)773-8822013
Fax: 86-(0)773-8822013
E-mail: Sihai@hotmail.com
Under the Moon
A coffee house of extreme attraction. Add: 83 West Street, Yangshuo
Postalcode: 541900
Tel: 773-8825000
Fax: 773-8825000
MeiYou Cafe
Meiyou means: ""We don't have""
It promises that ""Meiyou warm beer, meiyou lousy food, meiyou rip-offs, meiyou bad service, But we do have famous breakfast buffet with Chinese and western food"
Add: 80 West Street, Yangshuo
Tel: 8821167


Got questions? Ask us here!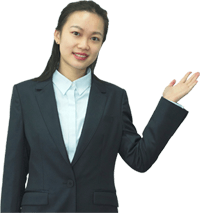 Sally Guo
Travel Advisor