Hiking in the Wild Nature
Hiking along Li River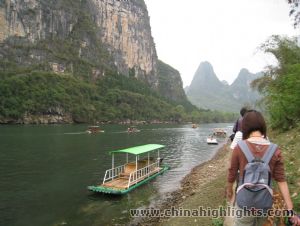 Li River is famous for its natural sceneries, peaceful environment and crystal clear water. Besides cruising the Li River, hiking along it is a very popular way to see the spectacular scenery and life style of local people who live in the banks of Li River close-up. The 20klm section from Yangdi to Xingping is the most popular because of its scenery.
Hiking from Yangdi to Xingping takes 5-6 hours. The walk is a more peaceful way to enjoy the Li River and mountain scenery. Hikers will pass through six small villages and cross the river three times on ferries. Walking along the track you will see local women washing their clothes in the small rivers, farmers in their daily toil, while children are indulging in play. How many horses can you count on Mural Hill? It is said that the more horses you can see, the cleverer you are. Further on is Huangpudaoying (Yellow Waterfall Reflection) which appears on the 20 Yuan. Xingping town is a very old town worth exploring with its old houses and streets from the old China.
Tips:
1.The drive from Guilin to Yangdi where our hiking starts takes about one hour.
2.The drive from Xingping, to Yangshou takes about 40 minutes.
3.Take some sacks and bottles of water with you since the hiking trip is a long way and you may feel thirsty and hungry. There is also food and drink available during the hike.
4.Best time to hiking are April, May, October and November.
Best time for hiking is April, May, October and November.
Longji Terraced Fields Hiking
Longsheng and Longji are famous for there spectacular terraced rice fields. The rice terraces are built into the hillsides and look like great steps cut into the slopes as they wind around the mountainside. The terraced fields in Longji offer some of the most fantastic sceneries and have equally fascinating names like seven stars with moon and nine dragons with tiger. Hiking is the best way to view stunning scenery and experience the Zhuang and Yao minority lifestyle.
Although there are several hiking itineraries, the most popular route is from Ping'an Villiage to Jinkeng Villiage. It will take four or five hours on a clear track. Hikers will meet local farmers work in the rice fields along the way.
Tips:
1. Located 102 kilometers Southwest of Guilin, it will take about two hours from Guilin to Longji Terraced Fields in Longshen County.
2. Best time for hiking is spring and autumn.
3. Please wear good walking shoes and take some snacks and enough water with you because of there are no shops on the route.
Got questions? Ask us here!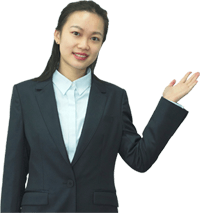 Sally Guo
Travel Advisor