Longsheng Huangluo Yao Village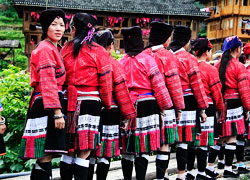 Huangluo Yao Village is located in the bank of Jinsha River, on the bottom of Zhuang Village, all the house are build base on the river bank, and made of pine wood.
Yao nationality is distributed in six provinces but the Guangxi Zhuang Autonomous Region contains the largest population of the Yao people. They have their own language but most would also speak mandarin. Their origins date to the Qin Dynasty. There are several sub-groups within the Yao nationality. Yao people are distinctive by their colorful national dress and often the women will have extremely long hair which is coiled up on top of their head.
Yao People's costume is so colorful. The women of Yao are different in two, some of them wear short jacket with no collar in upper body, but others are in long coat. In some area three arc silver hairpins is decorated on head, which sometimes weigh half a kilogram. The Yao Minority in this village has special features, the ladies all dress-up in red, they roll it up the long hair on the head, the longer hair means more pretty, and they use the rice water washing the hair to keep it black and healthy.
Got questions? Ask us here!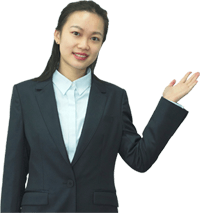 Sally Guo
Travel Advisor