Guilin Merryland Theme Park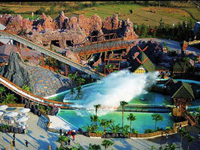 Guilin Merryland World has an area of sixty hectares and was built in 1997. Located in Xing'an County, 60 kilometers north of Guilin, it takes 1 1/2 from Guilin. Merryland has four parts: Merryland Theme Park, the Merryland Resort Hotel, Forest Resort Village and Golf Club.
Marryland Theme Park
This area has six sections each with their own theme with modern rides and shows. It is a great place for families.
China Merry town- the architecture is ancient Chinese style.
American Wild west-Visitors travel back to 18th century to American pioneerr period.
Dream World-Fantasy design like Alice's dream land. There is a performance at 12:30 and 15:00 which lasts 30 minutes.
Pirate Village- Get up close and personal with pirates! Pirate Ship ride is great.
South Pacific area -Tropical plants, bamboo, thatched houses and magical aboriginal stone carvings just like being in the South Pacific. Go Airship surfing and ride Waves roller coaster. There are two performances in the area.
Indian show
Time: 10:00 and 13:45 lasts 15 minutes
South Pacific song and dance show
Time: 13:30 and 16:30 at normally, but on holiday at 10:00, 13:30 and 16:30. Performance lasts 15 minutes.
Europe Area- visitors can appreciate the Gothic architecture of the 12th -13th century.
Mandala Garden –A natural garden full of many kinds of flowers. Lover's bridge, Fengyu Bridge and walk around Ling Lake are recommended activities.
Merry-land Resort Hotel
The Merryland Resort Hotel is 5 star hotel which adjoining the theme park. The hotel is decorated in Guangxi Zhuang minority style featuring wooded ceilings. The ceiling is made up of six wooden shelves with classic ancient architecture and traditional craftsmanship. Facilities in this five-star modern hotel include an Entertainment Center, Health Center, bar, café and swimming pool.
It has 371 rooms including standard rooms, suites and presidential suites. Immerse yourself in the colorful culture of minority cultures while enjoying a Spa, massage, or steam bath.
Forest Resort Village
The Forest Village divided into two parts: the wooden house area and the campsite area.
There are sixty wooden villas decorated in European and Japanese styles. Each house has two floors. Suitable for couples or families.
Campsites in the forest village are also available. There are 160 camps available for people who wish to have an adventure experience. Tent, sleeping bags and sunshade are available. A large bonfire area allows customer to have barbecues with friends or family.
Golf Club
18-holes course of international standard, Guilin Merryland Golf Club is the largest golf club in Guangxi Province. Designed by an American designer Golden Louise design the course based on its unique terrain. The front nine is based on hills and pond which increases the difficulty. The back nine holes are divided by water. Coaching is available.
Tips
1. Transportation: There are express buses from Guilin train station or Bus station to Merryland at thirty-minute intervals costing 18 yuan per person.
2. Ticket fee: 110 yuan for adult, 55 yuan for children (3.6 feet – 4.6 feet high)
3. Open time for Merryland theme park: 09:00-17:30 from January to June, 08:30-18:00 from July to August, 09:00-17:30 from September to December. Not open on Chinese New Year's Eve.
4. April to October are the best times and please avoid travel on China's National Day and Labor's day because of crowd's.
Got questions? Ask us here!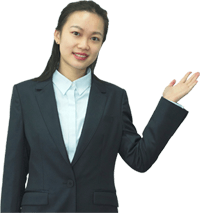 Sally Guo
Travel Advisor