Beijing Attractions
We offer a list of must see attractions in Beijing for first-timers. They stands for Beijing to some extend and all are worth visiting.
Great Wall
Badaling Great Wall
Though it isn't really true that the Great Wall of China is visible in outer space, it doesn't reduce the fact it's extremely massive. In fact, it spans more than 5,000 miles. Built over 2,000 years ago, it was meant to be a fortification for the city of Beijing against the invasion of the nomadic tribes from the northern part.
Mutianyu Great Wall
This less-crowded section of the Great Wall is about 1.5-2 hours' drive from Beijing city center. A cable car takes you to a good section (avoiding a very steep climb), where you can walk along the wall, through the watch towers and enjoy superb views as it snakes across the hills and mountains.
Forbidden City
Despite its name, it's currently one of the visited attractions in Beijing. The stunningly huge complex was once the home of the two most popular and powerful dynasties in China: Ming and Qing. Back in the days, it was also called as the Purple City. Though it's a seat of power, only those who were permitted by the emperor can enter it, thus, the name. It is now the official home of the Palace Museum and is located near the Tiananmen Square.
Chinese Name: 故宫
Address: 4 Jingshan Front, Dongcheng, Beijing
Operating Hours: 8:30 a.m. to 3:30 p.m. (except on Mondays, where it closes at 11:00 a.m.)
Fees: CNY 40 to CNY 60 (CNY 10 for certain sections)
Summer Palace
The Summer Palace is currently the largest garden in China. It was opened in 1750, covering around 60 miles. It is also composed of the Kunming Lake and the Longevity Hill. During its glorious days, it served as the garden and later the official residence of the royal families. Its grandness, though, was destroyed multiple times due to wars. Fortunately, restoration efforts were in place to bring back its natural beauty. Today it's one of the gardens that are part of the World Heritage List of UNESCO.
Chinese Name: 颐和园
Address: Qinglongqiao E Street, Haidian, Beijing, China
Operating Hours: 6:30 a.m. to 6:00 p.m. (Monday to Sunday)
Admission Fee: RMB 50 to RMB 60
Temple of Heaven
Beijing has a lot of temples and palaces, but one of the most gorgeous and historical is the Temple of Heaven. Built in the 1420s it became a central worship center during the Qing and Ming dynasties. Through the leadership of the emperor, the people flocked in here to pray for good harvest. After the end of the dynasties, the temple was left alone until the Chinese Communist government took over for its maintenance. Today, it is included in UNESCO's World Heritage List and is more than 270 hectares in size. It covers the Altar of Prayer for Good Harvests, Red Stairway Bridge, and Divine Music Hall.
Chinese Name: 天坛
Address: Dongcheng, China
Operating Hours: 6:00 a.m. to 10:00 p.m.
Fees: 30 RMB
CCTV Tower
The CCTV Tower is one of the interesting modern architectural structures located in the central business district of Beijing. Though it covers more than 5 million square feet and over 40 floors, it isn't a traditional tower at all but a one-of-a-kind grid with 6 columns and rows. When joined together, they create an open center. Aside from the façade, the tower has also become popular for its carved paintings on the eastern hall, revolving restaurant, and Taipingyang Underwater World Exhibition.
Chinese Name: 中央电视塔
Address: East Third Ring Road, Chaoyang, Beijing, China
Opening Hours: 8:30 a.m. to 10:00 p.m.
Admission Fee: CNY 140
Beijing National Stadium
The Beijing National Stadium is also called Bird's Nest because it looked as such from afar. Its construction began in 2003 in preparation for its use during the 2008 Paralympics and Summer Olympics. Another well-known Olympics structure is the Cube. After the Olympics season, Bird's Nest continues to bring in tourists. The management hopes to host more entertainment and sporting events. There's also a plan to transform it into a huge complex for entertainment and shopping.
Chinese Name: 北京国家体育场
Address: 1 National Stadium South Rd, Chaoyang, Beijing, China
Opening Hours: 9:00 a.m. to 5:30 p.m.
Admission Fee: CNY 50
Ming Tombs
Only a considerable number of tourists are able to get to the Ming Tombs because of its location, but it's always worth the time. The large tract of land features tombs of the 13 emperors of the Ming Dynasty. However, only three of them are open to the public: Zhaoling, Dingling, and Changling.
Chinese Name: 十三陵
Address: Changping District, Beijing
Operating Hours: 8:30 a.m. to 5:30 p.m.
Admission Fees: RMB 20 to RMB 40
Got questions? Ask us here!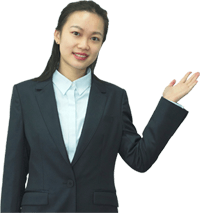 Sally Guo
Travel Advisor