For Families
There are a lot of tourist sites that are family friendly for those traveling with young children and teenagers in Guilin. At the same time, making a plan and planning for enough down time will be the key for a successful vacation. Families with small children are going to need to plan very well, in order to be able to get out of their hotels in the morning and afternoon, but be close enough for naps.
Where Families Can Unwind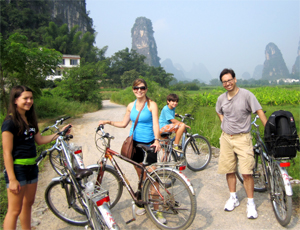 Families just arriving in Guilin should check out Elephant Trunk Hill. This park near the center of the city is a great place to relax, see your first glimpse of the Li River and even have a picnic. The park gets its name from a rock formation that resembles an elephant drinking water from the river. Challenge your kids to see if they can be the first to discover the rock. If you've just spent time on a plane or train, the kids can roam around the park and get any extra energy out of their systems. The One Cave You Need to See (and a Cave that Teens Will Love).
One of the landmark attractions in Guilin is Reed Flute Cave, which is also one of China's most famous caves. This limestone cave is over 180 million years old and will intrigue adults, children and even teenagers with the stalactites, stalagmites and awe inspiring rock formations. Nearly every Guilin travel group goes to this cave, so it can get crowded. Remember that it gets so crowded because it is the best.
Families traveling with older children or teenagers might want to consider a trip to one of the many mud caves that are outside of the city. These caves are less touristy and give visitors the chance to get off of the beaten path and crawl around and actually explore the caves. Most of them do have admission fees, and it is definitely recommended that you bring a change of clothes, because, as the name implies, you are going to get dirty.
Hire a Local to Show You Around
One thing that families traveling might want to consider is to hire a local guide to show them around. Local Guilin tour guides are typically more flexible than organized tours, and you can customize your tour to fit your needs. While you may think that it may be too expensive, by getting what you want and skipping what doesn't interest you and your family, you will probably end up saving money and having a more pleasant experience. Also, a private tour guide of Guilin is going to allow you to have down time or to just rest under a tree instead of hustling after a tour group when your kids are having a break down and you are tired.
Recommaned Guilin Tours for Families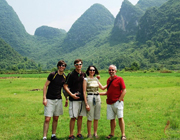 Got questions? Ask us here!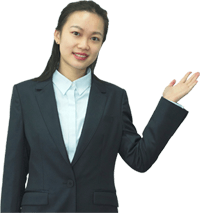 Sally Guo
Travel Advisor