Yangtze Cruise Ships
If you've decided to include a cruise on the Yangtze River in your visit to China, you have made a good choice! The Yangtze offers you nearly 4,000 miles of beautiful scenery, Chinese history and modern culture along its winding path. You can visit China's past, its present and get a glimpse of its future as you sail the Yangtze.
With over 700 tributaries and the option to cruise upriver or downriver, your access to different facets of China is almost unlimited. In the same season, you can experience drought and monsoons. You can see mountains, sheer cliff faces that support 12-story temples or you can take in a modern art exhibit. What you see and experience is completely within your hands. But, your first choice must be what kind of cruise to take and which cruise line to book with.
President Cruises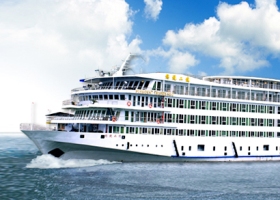 The five fleets that make up the President Series Cruise line (President 1, President 7, President 8 and President Prime) all run on the Yangtze River. Owned by Wuhan Yangtze Cruise Co., Ltd., these ships sail year-round with a set schedule.
Cabins on the President line's ships range from a standard cabin with en-suite shower and a porthole window to a deluxe suite with balcony, bathtub and separate shower. Central air-conditioning is featured on the ships and each room's TV has satellite service with premium cable channels such as HBO and CNN.
Once you board one of the President Cruise ships, you are greeted with complimentary fruit as you make your way to your cabin. Your first evening onboard features a welcome cocktail party with the ship's captain. These are just the first of many amenities you'll enjoy as the ship sets sail. Each day, you can take part in morning Tai Chi workouts, classes in traditional arts like calligraphy and painting, evening stage shows, and specially planned shore excursions.
Daily meals include a breakfast buffet and lunch and dinner prepared by world-class chefs each of whom has received special training in traditional Chinese cuisine. Explore the world of Chinese tea as well as enjoying in-cabin room service.
Each ship is equipped with a health and fitness center, featuring sauna, massage therapy and a gymnasium. For business needs, there's a fax/copying/printing center and internet access. You'll also find a library, card room and playroom (for those traveling with children).
Victoria Cruises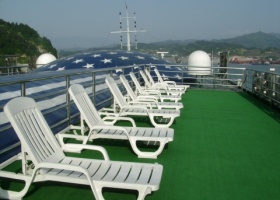 The Victoria line of cruise ships sets itself apart as the only American cruise company operating on the Yangtze. Each of the Victoria ships (Victoria Sophia, Victoria Lianna, Victoria Anna, Victoria Grace, Victoria Katarina, Victoria Selina and the Victoria Jenna) has earned a 5 star classification. And, each cabin features a balcony, giving travelers a breathtaking view of the Yangtze River and its surrounding landscape.
The Victoria line has been in operation for 16 years, offering two different routes. Both originate in Chongqing so, you can leave from there and debark in either Shanghai or Yichang. With these itinerary choices, you can explore the Yangtze and the Three Gorges region fully and from different perspectives. Standard cabins (16.4 sq. meters) come equipped with mini bar, personal safe, TV with satellite channels and a separate shower and tub. You'll also find complimentary toiletries in the bath. While all of these amenities may inspire you to stay in your cabin, don't overlook all the ship's features outside of it.
Each ship has a smoking room, library, dedicated cocktail party space, business center w/internet access, sauna, salon, playroom for children and a full-service gym. You'll also find the staff speak several languages and are well-informed about the local area.
As a perk, Victoria offers passengers booked in upgraded cabins a VIP service with free internet access, special shore excursions and complimentary happy hours. If you choose to book either a suite or Superior Cabin you can enjoy all of this and reserved seats for the evening shows.
New Century Cruises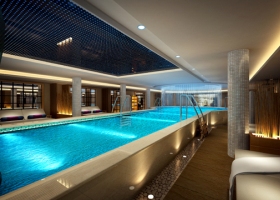 When you sail down the Yangtze on a Century Cruise ship, you're sailing on a ship whose cruise line is designed exclusively for comfort and luxury. The European owned company is all about five-star accommodations and service. Whether you choose the Century Diamond, Century Star, Century Sky, Century Sun or the Century Emerald, you're booking passage on a ship that will promises a incredible experience in an incredible setting. Every cabin on board a Century ship has its own private balcony, floor-to-ceiling panoramic glass windows, air conditioning, satellite TV and updated décor. If you venture outside of your cabin, you'll find amenities like observation elevators, a business center, traditional Chinese dining, educational and cultural entertainment opportunities and so much more.
Whether you're more interested in folk dancing or Majong or even local opera performances, the Century cruise lines focus on culture and local art, food and entertainment. If you are looking for a European-style cruise, take a look at Century.
Got questions? Ask us here!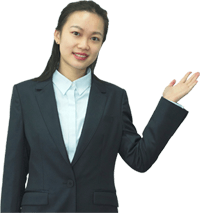 Sally Guo
Travel Advisor